Windows Server 2008 Device CAL
Windows Server 2008 Device CAL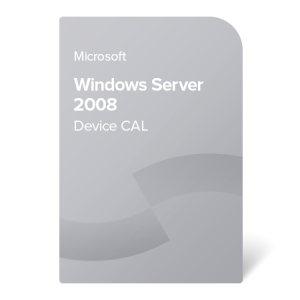 Obrázek má jen ilustrační charakter. Produkt dodáváme e-mailem.
Typ licence:
elektronický certifikát
Na skladě Není skladem
Doručení:
Na vyžádání Během 1 pracovního dne Během 1-2 pracovních dní Během 15 minut

Doprava zdarma
1 347 Kč
319 Kč
263,64 Kč

bez DPH (21 %)
100% zákazníků doporučuje nákup na forscope.cz
Typ licence:
elektronický certifikát
Forma distribuce:
Volume (OLP, EA nebo podobné); elektronický certifikát
Délka platnosti licence:
časově neomezená
Přenositelnost licence:
přenosná
Licenční certifikát
Dokumentace v souladu s právními předpisy EU (Prohlášení prodejce)
Potvrzení o nákupu (faktura)
Také doporučujeme
Windows Server 2008 Device CAL
CALs - your access to Windows Server products
Windows Server 2008 CALs provide access to Windows Server 2008 or any of the previous versions. They give users the right to legally access a server installed with Windows Server software. Device CAL is for a single device with unlimited number of users.
Note: This is just a client access license, you can find the Windows Server 2008 programs here: Windows Server 2008 Standard or Windows Server 2008 Standard R2.