Tento průvodce je určený pro volume produkty Office, jako je Office 2019 Standard a Office 2019 Professional Plus.
Před instalací softwaru se ujistěte, že:
váš počítač splňuje systémové požadavky pro Office 2019,
váš operační systém má nainstalované nejnovější aktualizace systému Windows,
v počítači nejsou nainstalované následující Office produkty (pokud ano, odinstalujte je):
Office Home and Student, Office Home and Business, Office Professional, desktopové aplikace Microsoft 365, My Office.
Průvodce krok za krokem
Přejděte na onesam.eu a přihlaste se svým e-mailem a číslem objednávky.
Stáhněte si a spusťte naši aplikaci Office 2019 Volume Installer.exe.
Může se zobrazit následující varování:


Tato zpráva se objevuje, protože je aplikace zcela nová a dosud nezískala status "Důvěryhodná" v bezpečnostních systémech Windows. Klikněte na Další informace (More info) a zvolte Přesto spustit (Run anyway).
Po otevření vypadá instalační program Office 2019 Volume Installer takto:


Z rozevíracího seznamu Product vyberte produkt, který jste u nás zakoupili.
V poli Components můžete odškrtnutím zabránit instalaci těch aplikací Office, které neplánujete používat.
Z rozevíracího seznamu Platform vyberte typ architektury pro váš produkt: 32-bit nebo 64-bit.
Nejlepší volbou zpravidla bývá možnost 64-bit – díky tomu bude váš produkt fungovat lépe na moderních operačních systémech a zařízeních.
Z rozevíracího seznamu Langauge vyberte, v jakém jazyce chcete svůj produkt nainstalovat.

Jakmile dokončíte přizpůsobení instalace, klikněte na Download & Install.
Nyní stačí počkat, až se váš produkt nainstaluje. Zelený indikátor průběhu instalace v aplikaci se několikrát zaplní a objeví se několik dalších oken – to je normální a běžnou součástí procesu.
Nezavírejte Installer ani další zobrazená okna, nebo se instalace přeruší!
Balík Office je kompletně nainstalovaný, když se zobrazí toto okno: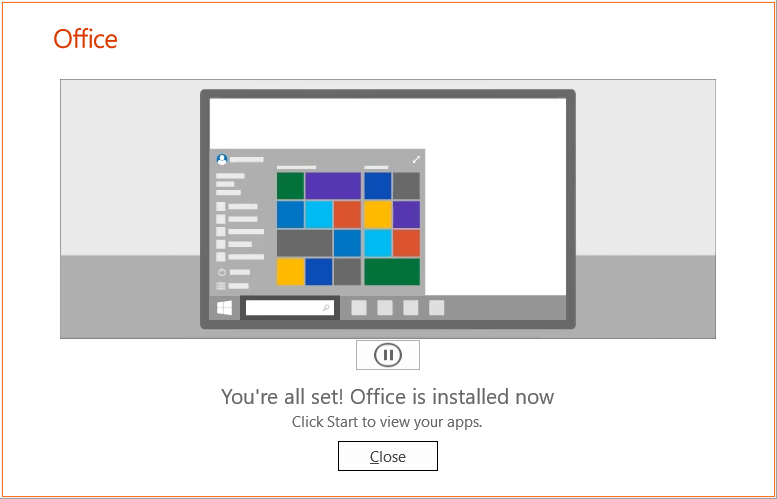 Nyní můžete aplikaci Installer zavřít a pokračovat aktivací produktu (přejděte na záložku Aktivace, kde najdete další pokyny).
Průvodce krok za krokem
Poté, co je váš Office 2019 úspěšně nainstalovaný, je třeba ho pro dokončení procesu aktivovat.
Spusťte libovolnou aplikaci Office 2019, například Word.
Otevřete prázdný dokument.
Přejděte do nabídky Soubor (File) → Účet (Account) a ve žlutém poli klikněte na Změnit kód Product Key (Change Product Key).


Zadejte svůj produktový klíč do vyskakovacího okna a chvilku počkejte, dokud se neobjeví tlačítko Aktivovat Office (Activate Office) – kliknutím na něj svůj produkt aktivujete a můžete ho začít okamžitě používat.