Tento průvodce je určený pro volume produkty Office, jako je Office 2013 Standard a Office 2013 Professional Plus.
Před instalací softwaru se ujistěte, že:
váš počítač splňuje systémové požadavky pro Office 2013,
váš operační systém má nainstalované nejnovější aktualizace systému Windows,
v počítači nejsou nainstalované následující Office produkty (pokud ano, odinstalujte je):
Office Home and Student, Office Home and Business, Office Professional, desktopové aplikace Microsoft 365, My Office.
Průvodce krok za krokem
Přejděte na onesam.eu a přihlaste se svým e-mailem a číslem objednávky.
Klikněte na svůj produkt Office v levé nabídce a vyberte si bitovou verzi:

32bitová verze – doporučena pro starší zařízení a systémy.
64bitová verze – doporučena pro optimální výkon na nových systémech.

V rozevírací nabídce pod možnostmi bitové verze vyberte jazykovou verzi vašeho balíku Office.
Stáhněte si soubor ISO, otevřete ho a spusťte soubor setup.exe.
Pokud se vám zobrazí malé okno s dotazem, zda chcete aplikaci povolit provádět změny ve vašem zařízení – klikněte na "Ano" ("Yes").
Poté odsouhlaste podmínky služby a pokračujte kliknutím na tlačítko "Instalovat nyní" ("Install Now").
Počkejte na dokončení instalace.
Office je kompletně nainstalovaný, když se zobrazí toto okno: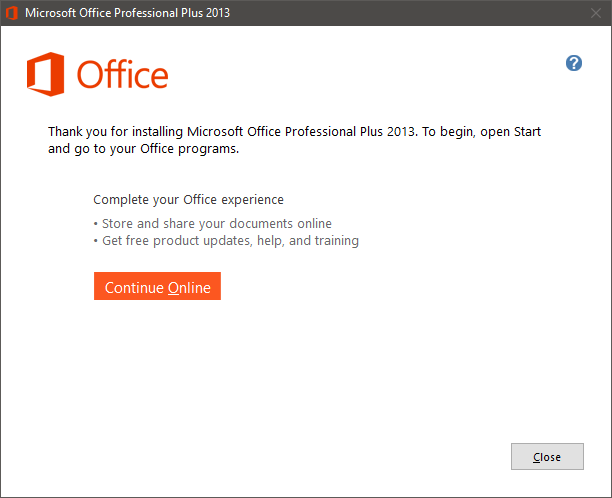 Klikněte na tlačítko "Zavřít" ("Close") a pokračujte aktivací produktu (přejděte na záložku Aktivace).
Průvodce krok za krokem
Poté, co je váš Office 2013 úspěšně nainstalovaný, je třeba ho pro dokončení procesu aktivovat.
Spusťte libovolnou aplikaci Office 2013, například Word.
Otevřete prázdný dokument.
Přejděte do nabídky Soubor (File) → Účet (Account) a ve žlutém poli klikněte na Změnit kód Product Key (Change Product Key).


Zadejte svůj produktový klíč do vyskakovacího okna a chvilku počkejte, dokud se neaktivuje tlačítko Instalovat (Install) – kliknutím na něj svůj produkt aktivujete a můžete ho začít okamžitě používat.