www.forscope.cz
Office 2016 Standard (Academic)
Office 2016 Standard (Academic)
čeština a
více než 10 dalších jazyků
slovenština
angličtina
němčina
ruština
francouzština
italština
španělština
portugalština
polština
ukrajinština
+ několik dalších jazyků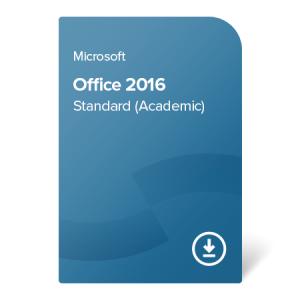 Obrázek má jen ilustrační charakter. Produkt dodáváme e-mailem.
Typ produktu:
elektronický certifikát
Na skladě
doručení během 5 minut
Dočasně nedostupné
Doručení e-mailem
Také doporučujeme: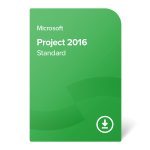 Elektronický certifikát
Přenositelné (online aktivace)
Pro 1 zařízení
Obsahuje: Word, Excel, PowerPoint, OneNote, Outlook a Publisher
Bez časového omezení
Kompatibilní s OS Windows
Kompatibilní se službou Vzdálená plocha (RDS)
Typ produktu:
plná verze; může se jednat o upgrade původní licence v souladu s dohodou o údržbě s držitelem autorských práv
Forma distribuce:
Volume (OLP, EA nebo podobné); elektronický certifikát
Druhotný software:
ano; doručujeme veškeré požadované dokumenty v souladu s právními předpisy EU
Platnost:
bez časového omezení
Přenositelnost:
přenosné
Způsob instalace:
instalace z originálního souboru výrobce (poskytujeme odkaz pro stažení souboru)
Architektura:
32/64 bit
Kompatibilita s OS:
Windows
Jazyk:
vícejazyčný software
Kompatibilita MS Office:
MS Office Standard, MS Office Pro Plus a samostatné MS Office aplikace
Kompatibilní kódy produktů (P/N)
:
021-10554
Softwarový certifikát
Dokumentace v souladu s právními předpisy EU (Prohlášení prodejce)
Potvrzení o nákupu (faktura)
Instalační soubor ke stažení
Procesor:
1 GHz
Paměť:
1 GB RAM (32-bit); 2 GB RAM (64-bit)
Volné místo na pevném disku:
3 GB
Operační systém:
Windows 7, 8, 8.1, 10; Windows Server 2008 R2, 2012, 2012 R2, 2016
Grafika:
DirectX 10 grafický procesor
Také doporučujeme
Project 2013 Professional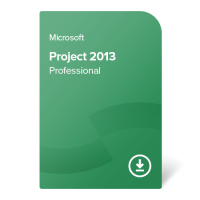 12 319 Kč
Visio 2016 Standard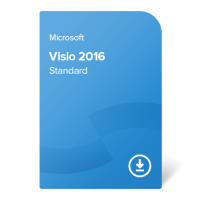 7 149 Kč
Office 2016 Standard (Academic)
Office 2016 Standard is the best option for small businesses that need desktop Office applications for PCs. The applications will save you time spent on repetitive tasks, enable you to cooperate on documents with built-in collaborations tools, or communicate with your co-workers easily. Plus, the apps are integrated with the OneDrive cloud storage, so you can access all of your data from virtually anywhere!

Office 2016 Standard adapts to your work preferences by allowing you to capture your ideas by using keyboard, pen, or touchscreen. In case you reach a standstill, the "Tell me what you want to do" box will help you out. Type in any word related to the task you want to do and the box will suggest just the right options. Thanks to the Insight feature, you can search for relevant information right inside the document and then use the results to enrich or complement your texts. Also, you will enjoy the differently colored tabs of each application. Now you won't get lost among the opened files anymore!
The Office 2016 Standard includes:

Word 2016
Word has improved its comment tracking with a new 'reply' button. Additionally, now you can edit PDF paragraphs, lists, and tables by pulling them into the Word file.
Excel 2016
Excel saves your time by learning your data input patterns and doing it for you with the auto-complete function. The new charts and graphs will certainly present your business successes in the most compelling way. The program recommends the most suited charts and gives you a preview of how your data can be presented.

PowerPoint 2016
With PowerPoint you will share your presentation online by simply sending a link to your audience.

OneNote 2016
OneNote embeds almost any type of file ranging from Excel spreadsheets to video clips. It can be synced to your other devices allowing you to smoothly share your OneNote notebooks from anywhere.

Outlook 2016
Outlook enables you to reply directly in the Reading Pane, thus making your email conversations more to the point.
Publisher 2016
Publisher helps you to easily create, personalize, and share a wide range of professional-quality publications. Swap pictures with a simple drag and drop, or add pictures directly from your online albums. Use special effects to make your publications stand out. Choose from an array of page parts, like sidebars and stories, as well as calendars, borders, advertisements, and more.
Important: It is not possible to install both volume and retail license versions of software on the same device. That means that, for example, you can't install Microsoft Office Home and Business (retail license) and Project Professional (volume license) on the same computer.